Safety Training Plus eLearning
eLearning: Self-paced training anytime, anyplace!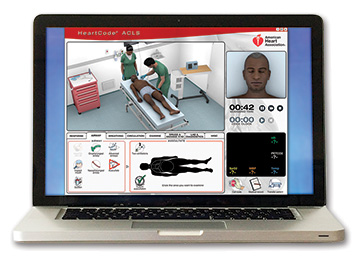 Whether the people you train are working toward certification, trying to keep their skills current, or simply interested in being prepared to help save lives, eLearning is the most up-to-date, flexible way to do it all!
Self-paced eLearning takes advantage of advances in technology and instructional design to deliver specific courses in a format that maximizes flexibility and consistency, while also saving you time and money.
With eLearning:
students can work at their own pace, taking more time when needed
instructors can use classroom time more effectively to assess and evaluate students' skills
organizations can reach large numbers of students in a small amount of time -- making eLearning a cost-effective way to expand training!
You'll find resources that enable people with Internet access to learn
what they need to know, whenever and wherever they like.
Courses available in eLearning format:
2015 American Heart Association (AHA) Guidelines For CPR And Emergency Cardiovascular Care (ECC) Science In-Service Online
Basic Life Support (BLS) For Healthcare Providers Online Part 1
HeartCode® BLS Part 1
HeartCode® ACLS Part 1
HeartCode® PALS Part 1
Heartsaver® CPR AED Online Part 1
Heartsaver® First Aid Online Part 1
Heartsaver® First Aid CPR AED Online Part 1
Heartsaver® Pediatric First Aid CPR AED Online Part 1
Heartsaver® Bloodborne Pathogens Online
Learn:® Rapid STEMI ID
Learn:® Rhythm Adult
Learn:® Rhythm Pediatric
Acute Stroke Online
Instructor Essentials courses
Structured And Supported Debriefing
When ordering an online course access key, please be sure to include your e-mail address when you order. The access key and instructions on how to log in and register for the course will be e-mailed to you, usually within 1 business day.
Note: eLearning courses are for individual use only. You must purchase one course for each student trained. Courses with "Part 1" in the title require skills practice (Part 2) and a skills test (Part 3) with a certified American Heart Association instructor or skills evaluator. Some courses are not compatible with Mac® computers. See individual item descriptions for more information.